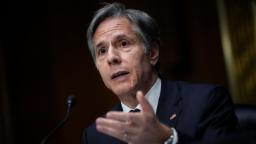 CNN
—

U.S. Secretary of State Anthony Blinken on Wednesday urged Ethiopian Prime Minister Abiy Ahmed to take responsibility for atrocities committed by all sides in the years-long conflict in northern Ethiopia.
The secretary of state and the prime minister held talks for about two and a half hours in the Ethiopian capital Addis Ababa during Blinken's first visit to the country as the top U.S. diplomat.
His visit comes months after an agreement was reached between the two main parties to the conflict – Abiy's government and the Tigray Popular Liberation Front. "Permanent Cessation of Hostilities Agreement" Aiming to end a bloody dispute that has caused a humanitarian catastrophe and caused a major rift in relations between the U.S. and the Ethiopian government.
A senior State Department official said ahead of the trip, which also included a visit to Niger, where the US was seeking to "recalibrate our engagement with Ethiopia" following the "earth-shattering" conflict.
"To put this relationship on track, we will continue to need Ethiopia to take steps to help break the cycle of ethnic-political violence that has set the country back for decades, including at the height of this latest conflict," said Assistant Secretary of State for African Affairs Molly Phee said in a call with reporters last week.
During Wednesday's meeting, Blinken and Abbey "discussed significant progress in implementing" the cessation of hostilities agreement, including "improving humanitarian access and restoring essential services," according to the State Department.
The two "discussed the importance of holding parties to the conflict accountable for atrocities committed during the conflict" and "the need for an inclusive and comprehensive transitional justice process," the report said.
CNN widely reported mass killings and sexual violence during the conflict, some of which with genocidal features. Blinken said in late 2021 that the United States would determine whether the crimes committed in northern Ethiopia amounted to genocide "once we get all the factual and legal analysis involved," but has not yet publicly determined that it has been done.
A joint report by the Office of the UN Human Rights Commissioner and the Ethiopian Human Rights Commission in late 2021 found that parties to the conflict "violated international human rights, humanitarian and refugee law, some of which may amount to war crimes and crimes against humanity."
The Biden administration has enacted some punishments for war. In November 2021, they impose sanctions The Eritrean army and its sole political party are embroiled in the conflict. In early 2022, Ethiopia lost eligibility for the lucrative U.S. trade program, the African Growth and Opportunity Act, due to "gross violations of internationally recognized human rights."