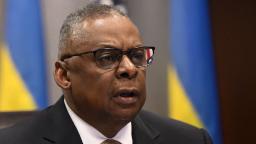 CNN
—

Defense Secretary Lloyd Austin vowed on Wednesday that U.S. aircraft would continue to "fly and operate wherever international law allows," a day after Russian jets hit american drone over the Black Sea, forcing it to be shot down in international waters.
"This dangerous incident is part of a pattern of aggressive, dangerous and unsafe operations in international airspace," Austin said at the start of the Ukrainian Defense Liaison Group meeting. "So make no mistake, the United States will continue to fly and operate wherever international law allows. Russia has a responsibility to operate as a military aircraft in a safe and professional manner."
Austin is by far the highest-ranking administration official directly dealing with the incident, which occurred on Tuesday when two Russian Su-27 aircraft intercepted an American MQ-9 Reaper drone. National Security Advisor Jack Sullivan briefed President Joe Biden on the incident on Tuesday.
Pentagon spokesman Brig. General Patrick Ryder said on Tuesday that Russian planes flew near the drones for 30 to 40 minutes before one of them crashed into an MQ-9, causing the U.S. to shoot the drone down into the water.
National Security Council communications coordinator John Kirby told "CNN This Morning" on Wednesday that the drone "has not been recovered, and I'm not sure we'll be able to recover it," but told CNN's Jack Tapper on Tuesday that the U.S. took steps "Protect our rights with respect to that particular drone".
Russia has denied the U.S. explanation for the incident, and Russia's ambassador to the U.S., Anatoly Antonov, said on Tuesday that Russia "has informed about this space, which has been identified as a special military operations zone." Antonov also said MQ -9 "flew with the transponder turned off, violating the borders of the temporary airspace", with which the Russian aircraft did not make contact.
Kremlin continue to defend On Wednesday, spokesman Dmitry Peskov told reporters to focus on the statement from the Ministry of Defense, "which clearly states that no weapons were used and there was no physical contact."
Relations between the United States and Russia are in an "regrettable state" and at their "lowest point," Peskov said, adding that Russian President Vladimir Putin had been briefed on the incident.