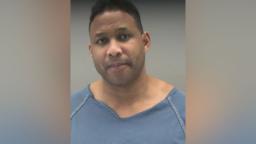 CNN
—

An Ohio man was sentenced Wednesday to 20 years in prison for defrauding more than a dozen victims of hundreds of thousands of dollars by posing as a Ghanaian prince.
According to evidence presented at trial, Daryl Robert Harrison, Prince Daryl R. Attipoe and the Prophet Daryl R. Attipoe ) defrauded at least 14 people out of more than $800,000.
Harrison was found guilty in September of mail and wire fraud, conspiracy to commit mail and wire fraud and witness tampering.
Over the years, Harrison stole money from people who believed they were investing in African mining and trucking companies, prosecutors said. Harrison lied about being a Ghanaian prince with ties to the companies, according to the Justice Department.
Several of Harrison's victims were congregants of the Ministry of Prayer Power House, which Harrison and his stepfather claim were pastors. According to prosecutors, Harrison and his stepfather used the investment funds for personal expenses, including renting a house in Colorado and buying luxury cars.
District Judge Michael J. Newman imposed the maximum sentence allowed under Harrison's law — 20 years in prison — more than the 14 years prosecutors sought.
"Each of the accused's counts of fraud was committed in a ruthless, calculated and premeditated manner," prosecutors wrote in court documents, describing Harrison as "extremely self-centered, calm and A sociopath who has no respect for social rules or norms and further lacks any empathy or empathy for his victims", "intimidates and threatens his victims to establish and maintain control over them".
Harrison had asked the judge to reduce his sentence, emphasizing letters of support written by parishioners and family members. Harrison's defense attorneys also noted that his wife, who is caring for their six children, is battling stage IV cancer.
Harrison's stepfather, Robert Shelly Harrison, Jr., pleaded guilty in December to one felony charge. He will be sentenced later this month.