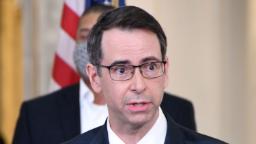 washington
CNN
—

The US Marshals Service said former Maryland Gov. Larry Hogan's former chief of staff failed to appear in court on Monday and an interstate investigation is ongoing.
Roy C. McGrath, 53, who was a top aide to Republican Hogan for several months in the summer of 2020, is facing charges in an alleged scheme to defraud the state of Maryland of more than $276,000 accused.
McGrath pleaded not guilty to all charges and was released on bond, the U.S. Marshals Service said in a statement Tuesday. He was due to appear in federal court in Baltimore and is now considered a "wanted man."
McGrath indicted by federal grand jury October 2021 He is accused of defrauding the Maryland Agency of Environmental Services, a state-run corporation of which he was executive director before joining Hogan's office, by "falsely telling them that the governor knew about and approved the payment," and the judge paid $233,647.23 severance pay. Department said.
The indictment also alleges that McGrath used MES funds for an art museum of which he was a board member to avoid paying pledges out of pocket and defrauded MES of paying more than $14,000 in tuition and falsifying schedules during two vacations.
McGrath was initially charged with wire fraud and embezzlement from an organization that received more than $10,000 in federal benefits, and alternative indictment Police, who returned in June 2022, also accused him of falsifying records. At the state level, he faces charges of felony larceny and violation of the state's wiretapping law, the Justice Department said.
CNN has reached out to McGrath's attorney. When he resigned from Hogan's office in August 2020 amid inquiries about his severance package, McGrath accuse "The deplorable politics of personal destruction," and said he was resigning to avoid "unnecessary disruption" to Hogan and his team.
If McGrath is convicted on all charges against him, he faces decades in prison, although the Justice Department acknowledges that the actual sentence is often less than the maximum sentence.