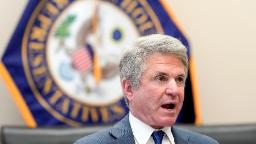 CNN
—

House Foreign Affairs Committee Chairman Michael McCall watched on Tuesday Objection cable Sent by US diplomats ahead of a frenzied withdrawal of US troops from Afghanistan in 2021, they then spoke with Secretary of State Anthony Blinken about classified information.
The viewing was a victory for Republican McCall, who introduced a resolution holding Blinken in contempt of Congress for failing to turn over the telegrams, which the committee first subpoenaed in March. The State Department told McCall and the top member, Democrat Gregory Meeks, last week that only they could view the dissenting cables "secretly" at the State Department, some of which had been redacted.
Speaking outside the State Department on Tuesday, McCall praised the State Department for allowing them to view the cables and responses, but noted that he still believes that "under the subpoenas issued to the committee, all members of the committee should be able to censored on camera."
McCall's director of communications, Leslie Shedd, told CNN "[McCaul] Talk to the secretary and tell him that he thanks him for allowing himself and senior members to view the telegram. But it's hard for him to go back to all the other members of the committee — Republicans and Democrats alike — and say they can't see it either. "
"He told the secretary he needed to speak to RM Meeks and the other members and would come back with him," she said.
A Republican-led committee that is investigating the Biden administration's troop withdrawal from Afghanistan plans to mark up the resolution this week in defiance of Blinken, although the hike is put off There are no rescheduled dates for Thursday.
Meeks, meanwhile, praised Blinken's "remarkable" and "unprecedented" collaboration.
"I understand the significance and importance of him making sure that he protects individuals in the dissent channel. Because it's important to have it," the New York Democrat said.
The dissent cable was sent to Blinken in mid-July 2021, warning that the department needed to act quickly — such as quickly processing and evacuating Afghans who had assisted the U.S. — because they believed the situation in the country could deteriorate rapidly and feared catastrophe .
In the chaotic final weeks of the ensuing US evacuation, a suicide bomber struck Kabul airport, killing 13 US service members and more than 100 Afghans.
McCall Summon Blinken Appeared before the committee on March 28, after months of demanding documents from the secretary of state. Blinken told the committee at the time that he objected to sharing the document because he feared it would have a chilling effect on diplomats using the channel, a confidential way for them to share concerns with senior State Department officials.