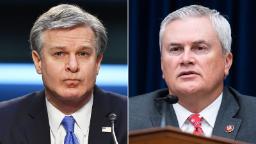 CNN
—

FBI Director Christopher Wray and House Oversight Committee Chairman James Comer plan to meet in the coming days, an FBI spokesman told CNN, as the Kentucky Republican continues to escalate criticism of President Joe Biden's business dealings investigation.
The meeting came after Comer threatened to hold Wray in contempt of Congress refuse to obey a subpoena An unnamed whistleblower claimed that an internal document revealed that then-Vice President Joe Biden was involved in a criminal scheme with an alien, according to a letter Comer sent to Wray on Wednesday.
"I have received word that the FBI director has promised to meet with me next week in Washington and we can discuss this," Comer said Wednesday night on Fox News. "However, if he does not turn over this document, the charges against him for contempt of Congress will remain unchanged."
The White House has previously slammed the unsubstantiated claims against Biden, calling them a "baseless, politically motivated attack" by Republicans.
Rep. Jamie Raskin of Maryland, the top Democratic member of the House Oversight Committee, described the allegations as "recycling unsubstantiated claims made by Senate Republicans."
"Given Chairman Comer's pledge to 'disband' the FBI, it should come as no surprise that he would rely on these unsubstantiated leads to attack President Biden with yet another baseless partisan stunt," Ruskin said.
Comer said Wray repeatedly declined his request to speak on the phone with Sen. Chuck Grassley, the ranking Republican on the Senate Budget Committee. However, a meeting between Wray and Comer had been scheduled by the time the FBI received Wednesday's letter from Comer, an FBI spokesperson told CNN.
In the letter, Comer outlined his frustrations with his staff's previous meetings with the FBI and provided more details about the form he was looking for to help the agency process the subpoena.
Comer assigned a Form FD-1023 dated June 30, 2020, stating that the foreign national allegedly paid $5 million to obtain desired policy outcomes based on information disclosed by a non-confidential and legally protected whistleblower .
The form FD-1023 in question is a document the FBI uses to commemorate meetings or gather information from classified sources. The document typically includes allegations from sources, including information that has not been verified by the FBI.
An FBI spokesperson told CNN, "The mission of the FBI is to protect the American people. Release of information from classified sources could jeopardize the investigation and put lives at risk. monitoring requirements."