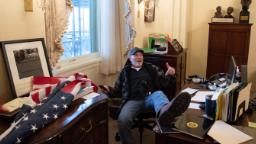 CNN
—

He was infamously photographed with his feet on a desk in the office of then-House Speaker Nancy Pelosi January 6, 2021Attacked the U.S. Capitol on Wednesday and was sentenced to four and a half years in prison.
Richard Barnett, also known as "Bigo", was conviction Eight charges, including civil disturbance, were indicted by a jury in January. He faces up to 20 years in prison on the top charge of obstructing an official process.
"For better or worse, you have been one of the faces of January 6th and I think you enjoyed it," District Judge Christopher Cooper said in sentencing.
On Jan. 6, Barnett spent 10 minutes in Pelosi's office and was sprayed with a chemical irritant before leaving, according to court documents. During that time, he put his foot on Pelosi's desk and wrote a note to Pelosi, calling her a "b**ch." Court documents also state that Barnett carried a stun gun in his pants while in the speaker's office and took an envelope from the office. Prosecutors said he showed the envelope to other rioters as he left the Capitol like it was a "trophy."
"I shudder to think what would have happened if those staff were there, or God forbid the Speaker," Cooper said.
Prosecutors also allege Barnett traveled to the Capitol Rotunda to join a front line of rioters against law enforcement officers.
Barnett expressed no remorse for his actions on Jan. 6, which affected his sentencing. "The defendant continued to say that his behavior resembled that of a four-year-old grumpy," prosecutor Alison Prout said.
Speaking to the court during the sentencing, Barnett said he would appeal the case.
"They wanted me to feel remorse for something I didn't do. I'm obviously appealing the case," Barnett said.
Barnett has repeatedly said he has been treated unfairly by the legal system and that he will only apologize for actions he believes he committed during the riots.
"I was angry that day, and I admit I was, and I apologize for that."
Barnett did not comment on the verdict. His wife was seen crying as the couple left court.
During his trial, Barnett testified that he was wheeled into the Capitol during the riots while he was looking for a place to use the restrooms in the building, admiring all the artwork along the way.
This story has been updated with more details.